Glass Partition Walls – Ideas and Solutions by ERGO
A glass partition wall is an easy and trendy way to divide areas in your house or office. Elegant and visually light structures will fit into any design and give it a modern touch. 
Steel and glass partition walls allow you to create a separate working or sitting area and change the perception of your space without interfering with interior style.
Would you like to learn the prices for glass partition walls by ERGO?
Leave a request, and we will call you back the same day to discuss the project details, which affect the price for glass partitions.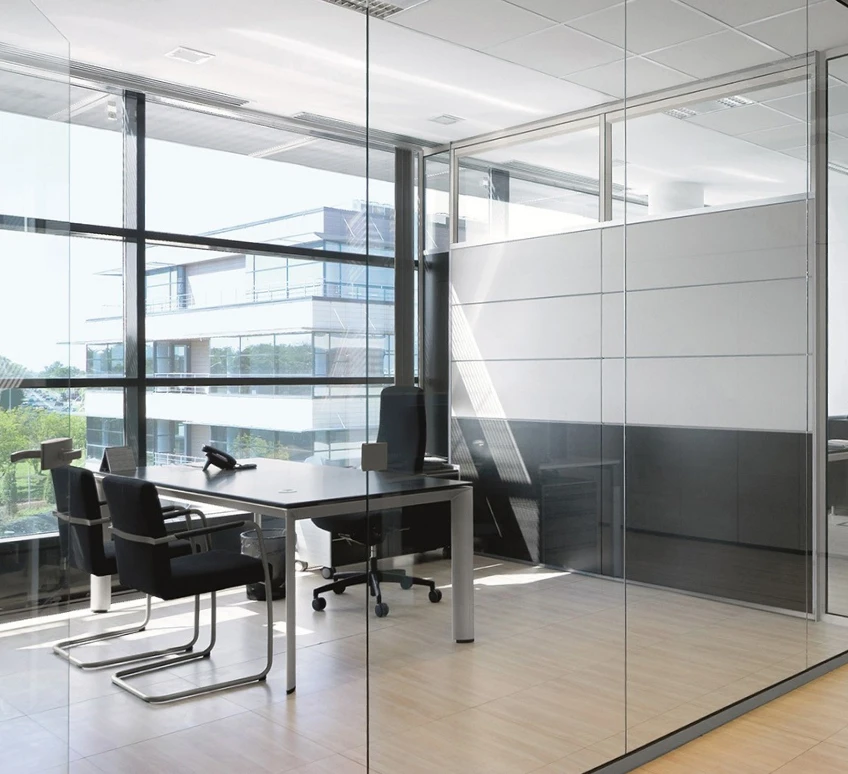 Manufacture of
Glass Partition Walls

from ERGO
Trust the experienced ERGO team, and we will create glass partitions of any complexity. We use metal frames from the best suppliers to manufacture monolithic and framed structures.
Structures installed by the ERGO specialists are of high strength due to the usage of tempered glass. They are resistant to mechanical damage and will last you years.
We will create working sketches considering the size of your premises so that glass structures will perfectly fit your interior.
Installation of

Glass Partitions
We will install glass partitions on any premises to suit the ceiling height. Movable or static glass structures are mounted with the help of fixing points on the floor, walls, or ceiling and may be monolithic or divided into parts.
We can use tempered glass, which has high endurability or triplex, multilayer glass type. We offer structures with frosted, transparent, color, or tinted glass so that glass partitions suit the project's design.
Benefits of
Glass Partition Walls

from ERGO
Custom project for every client
Interior space zoning without limiting views
Making the most of natural light
Interior space transformation at reasonable prices
Extensive experience with metal structures supported by successfully completed projects across Moldova
Glass Partitions
on turnkey basis
At ERGO, you can order glass partitions on a turnkey basis. Our experienced team will design and implement the project according to your demands and handle all the work. We know how to integrate glass and steel structures into any interior design.
Do you want to order glass partition walls in Moldova from ERGOGLASS?
Contact us, and the Ergo company specialists will design a customized project according to your requirements.