Terrace and Balcony Glazing: Design and Installation
Balcony, veranda, or terrace glazing guards you against the negative influences of the environment. Frameless glazing systems for terraces or verandas perfectly fit into the architecture of a building and provide more light.
Glazing of the veranda in a private house, restaurant, office, or shop allows enjoying the space in any weather conditions. Balcony glazing will add functionality and trendy touch to your residential or commercial premises.
Would You Like to Know Prices for Glazing of Balcony or Terrace?
Leave a request, and we will call you back the same day to give you price on the glazing of the terrace and balcony.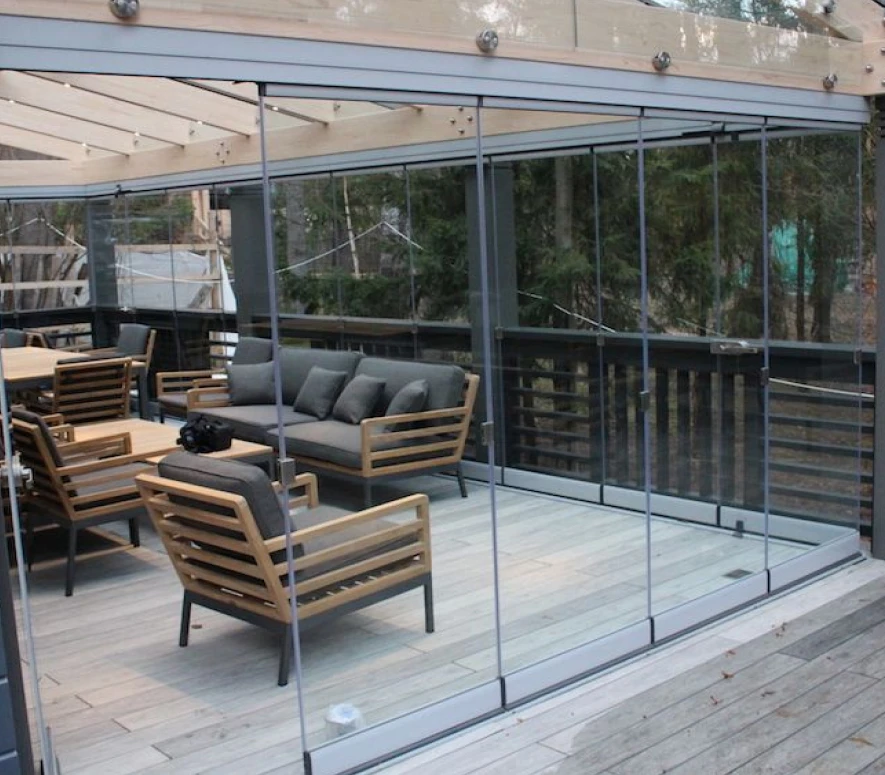 Frameless

Terrace Glazing
Open terrace glazing using panel glides with a thin steel frame will add elegance to the architecture of the building and make your space more functional. Each panel can easily open to the right, left, and both sides.Choosing frameless pergola or terrace glazing allows you to enjoy your favorite lounge area all year round because it will be able to retain heat even during a cold winter. A properly designed system protects your space from moisture and dust.
Manufacture and
Installation
Each project of ERGO's glazed balcony, terrace, or veranda is characterized by functional configuration. Cold glazing is perfect if you plan to use the veranda only in the warm season. If you use heating equipment on the terrace, we will help you design a warm glazing construction. Terraces may be glazed using panels with thin steel frames or frameless panels mounted to bearing structures.
Also, glazed balconies or terraces may have panel glides or stationary panels. Sliding panels are more space efficient. Terraces are glazed with tempered glass, providing higher mechanical damage resistance.
Benefits
of the ERGO

Glazed Terraces
Design and manufacture of unique terrace glazing systems
High-quality frames and tempered glass
Structures with reliable damp and thermal insulation
Aesthetically pleasing design of glazing systems
Extensive experience with metal structures supported by successfully completed projects across Moldova
With ERGO, you will be able to order a turnkey balcony or terrace glazing and receive a wide range of benefits, including one team handling all the stages of work. We will carefully examine your object, make necessary measurements, and study the architectural peculiarities of your terrace or balcony. We will offer you the best solutions for your project to improve your object's aesthetic and functional properties.
We are ready to take on your project
Contact us and Ergo specialists will create a personal project for your tasks