Glass Shower Enclosures for a Functional and Elegant Bathroom
Glass shower enclosure – an excellent choice, whether it is a partial or complete closure of the shower area from the rest of the room. Glass shower enclosures from ERGO can be both fixed and hinged, square, straight or with a curved edge, suitable for installation in bathrooms, shower cabins and wet rooms.
Glass shower enclosures – price, consultation, measurements and design
Submit an application, and we will call you back within one working day and answer all the questions about your project.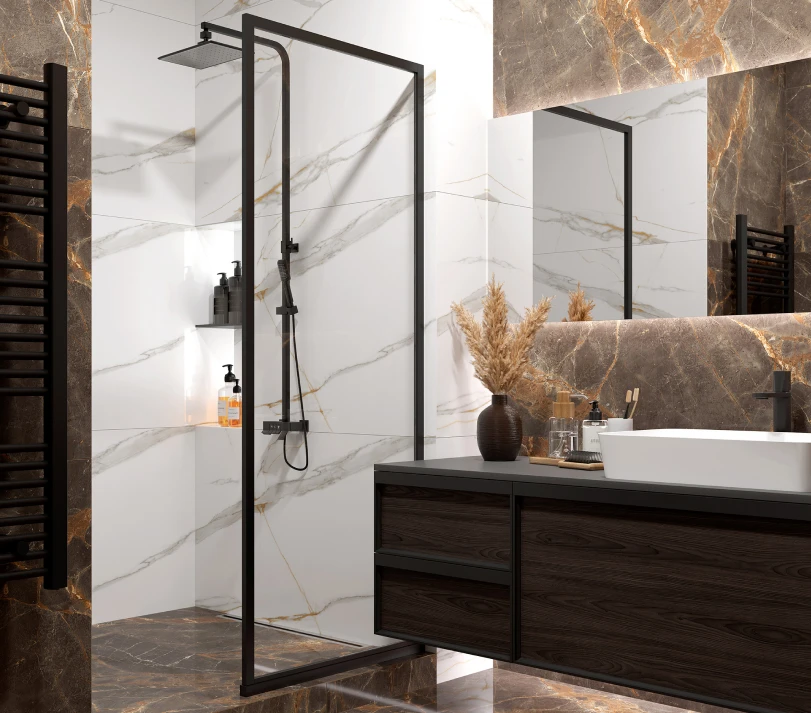 Glass shower
enclosures production
As a manufacturing company engaged in the production of shower cabins and other glass products and ERGO offers its customers a site visit and consultation on the design and configuration of the cabin. Then, we will produce a shower cabin that will perfectly match the project and your specific needs. Our experts have extensive experience with tempered glass, which allows us to offer elegant and reliable custom designs.
Installing

a glass screen in the shower enclosure
The glass screen (fixed or movable) is mounted using small clamping elements that are fixed to the wall, floor and/or ceiling.
The other main means of attaching a glass shower enclosure to the wall, floor and/or ceiling is a frame profile and/or rebars. Customers sometimes worry that glass screens are not quite stable, so we recommend it.
Advantages of ERGO
glass shower

enclosures
Design and custom projects
Combination of luxury, elegance and practicality
Protection against temperature change, shock and scratching
Full or partial closure of the wet area
Effective bathroom zoning
Extensive experience with metal structures supported by successfully completed projects across Moldova
If you decide to buy a custom glass shower enclosure, you will have the opportunity to choose a product with dimensions that match the layout of your bathroom.
As a manufacturer with more than 13 years of experience, we are ready to offer you different variants for opening doors, simple screen-partitions, a choice of glass, high-quality fittings and all kinds of other options.
If you have an idea of what you are looking for, we can help you buy a glass shower enclosure. Previously, our specialists will see the site of work and recommend the best variant in terms of installation, regardless of whether it is a glass partition on one, two, three or four sides.
We are ready to take on your project
Contact us and Ergo specialists will create a personal project for your tasks